Making Testing Sexy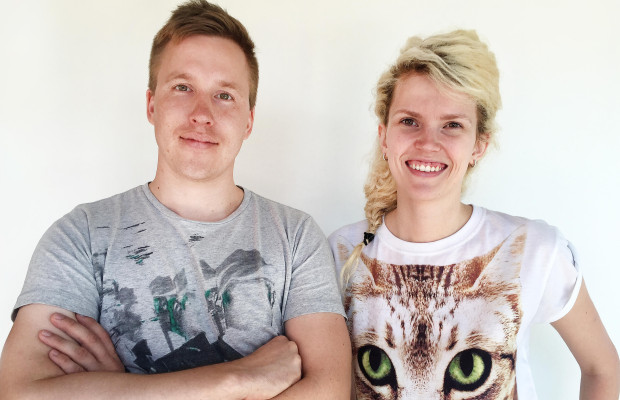 "We want to change the world of testing," claim Kristel Viidik (26) and Marko Kruustük (33), the power duo behind the testing startup Testlio. "Our goal is to change the mindset so that this occupation would be seen as sexy. Being a tester does not have to be a launchpad for becoming a developer. Testlio should be the first name that comes to mind if you think of testing."
The first time I met Kristel and Marko in the Bay Area was two and a half years ago. They had just founded their own company, Testlio, a startup that provides development teams with quality-assurance (QA) testers. They were looking for ways to raise money and lived off friends' couches, being social in the evenings but working hard through days and nights. This had been their lifestyle for years, they did not yearn for stability or much comfort because they had finally figured out what they really wanted to do.
A few years earlier they were in a dire situation with Kristel staying in a hostel in London, sharing a room with 9 other people and holding on to her backpack in the night while Marko was back in Estonia looking for THAT idea to get them rolling. They were both working lousy day jobs and feeling miserable.
Fast forward a few years and they are in charge of a bustling startup based in Telliskivi Loomelinnak in Tallinn, the heart of Kalamaja, aka local Hipsterville. Testlio is now 23 people strong and there is a cool vibe in their über-hip office, where people don't just go to work but the air is filled with that special positive electricity and awareness that they are changing the world.
In early 2015 they managed to persuade a "party round", i.e a large number of individual seed investors in Silicon Valley, including Techstars Ventures and Galvanize, that they have what it takes to change the world and raised their first $1 million.
Power couple
One of the angels in the round, Yee Lee lists his reasons that helped him make the decision to invest in Testlio:
"I like the company for several reasons: 1) I believe in the power of online marketplaces to create a global level playing field for employment and labor; 2) I like companies that can dominate a focused niche and have large adjacent markets to grow into; 3) I like companies where the founders have worked together to build, validate, and iterate on the product. Testlio embodies all three."
San Francisco based Lee, who is currently building his own next startup, Vouch Financial, a social network for credit, points out that unlike many other investors he is not scared of working with husband/wife teams. "Many of the companies I'm most proud of being affiliated with were started by couples — Wildfire, Slideshare, Khush Labs".
Kristel and Marko are long past the period in their lives when they thought being a couple was something they had to hide as a possible turn off for investors. On the contrary, being a strong tandem is a definite forte that also represents their dedication. They are one of those couples who obviously complement each other in every way, one starting the sentence and the other one finishing it. This is also how they came to the idea to build Testlio and how they've executed it.
"Kristel and Marko stand out among Estonian startuppers with their special "can do" attitude," says Ott Kaukver, VP of Engineering at Twilio, a cloud communication provider Testlio has built their platform on. "They have an extremely positive mindset and they are willing to work hard to achieve success."
Fast riders
"Most of the things have happened over the span of last months," Kristel tells in her typical reserved manner that is in striking contrast with her anything but modest appearances. "The brand recognition has expanded."
Testlio team is spread around the world with the core people based in their Estonian office: 7 engineers, 3 QA managers, a designer, recruiter, PR & marketing and a sales guy. Two additional engineers will join in September.
"There is a certain look in the eyes of the people who are on a mission toward something truly big," tells Annika Ljaš, Head of Branding & Communications at Testlio, one of their latest hires. "In the case of Kristel and Marko, this look is combined with a strong confidence that failure is not an option. This is what convinced me to join Testlio."
Having previously worked for a big state-funded organization, Enterprise Estonia, Annika loves being part of a small team of young techies that is growing fast. "There's so much I can do to make the Testlio brand stand out in the world. We're in a market of immense potential, worth $50+ billion, and Testlio is becoming the GitHub of testing. Our weekly all hands meeting tends to end in Kristel shouting "Let's do this, lets do epic sh*t!". That says it all, it is epic."
They are indeed all hands in. Marko who originally built the platform, still fixes bugs in the nights. And Kristel muses that she still enjoys hands-on testing: "Whenever we have a new customer, I help out because I want to make sure it is a great success." She adds that it would be unfair to expect everyone to work their asses off if they themselves would not be setting an example.
So how does one become a qualified tester on Testlio's platform? First of all, one needs to pass a test on a test app with built-in bugs ("I built it but have never reached a score of 100% myself," Kristel testifies). Then they sign up for a webinar for half an hour on time. And as a final test they need to work on a project over a weekend, so called "eat your own dog food" which would filter out the people who are not really passionate about testing.
Only after passing those tests can one become a member of the international community of testers, most of them from the US, Ukraine, UK and Estonia. There have been around 7000 sign-ups from testers but around 250 are actively joining the projects and get paid monthly. The best people get voted to top by ratings from QA managers and the community.
"There is no such thing in the world of software as a product with no bugs," Marko says. "We test big apps that have millions of users and pay attention to those bugs that have been notified the most. Testlio also provides statistics how the ratings get compiled and how one or another feature could influence those ratings. We are not just a testing factory, we actually help to better those products."
For almost a year Testlio's revenue has grown 20% each month and their customers include big global companies like Microsoft and fast growing startups such as FullContact. "We always try to give feedback in 48 hours," Marko claims. The 48-hour-cycle comes from the fact that most stable clients like to do their development during the week and use Testlio's service over the weekend, so they can start a new week sans the bugs.
"I still remember our first big customer. We really wanted to impress them so we worked hard and gave our results really fast. That won them over. " Now that he is doing less testing himself, Marko has more time on his hands to revamp the whole platform.
Humble beginnings
Both Marko and Kristel have graduated from Estonian IT College, a junior college built solely for training high quality IT specialists, Marko having been among its first alumni and Kristel his junior of 11 years. They met at an Estonian digital products company called Artify in 2008 when Marko hired Kristel for a project to test a website. By then he himself had a degree in IT Management from University of Kiel in Germany, had worked at Estonian Traffic Insurance Fund for some time and lived in London for 3 years.
"I loved that feeling of moving someplace else and starting everything from scratch again," Marko tells me. "You sell everything you have and all the rest fits in a suitcase. Even if you have the courage and get on well with other people, things won't just happen to you but you have to make them happen."
When Kristel graduated from college they decided to move to San Francisco. While there, Marko was interviewing for jobs but neither of them really blended in. So they unplugged their wires again and joined friends in Dominican Republic, literally went surfing. No commitments, no deadlines to meet.
"I had a chance to reflect on everything I had done over the past ten years and I realized why I had not been successful at all," Marko recalls. "I decided that dealing only with the tech side is not enough, I also need to pay attention to the business part. The mythical combination of a kick-ass developer and an MBA working together without sharing their tasks does not really work. Both have to do a little bit of everything."
Two months later they were back in London and while Kristel was frantically looking for a job and a decent place to live in, Marko was trying to build his next company in Estonia. "I even worked as a waitress for a week, lived in a hostel infested with rats, clinging to my backpack in the nights, but I could not imagine that a man would pay my bills," Kristel recalls with a laughter.
Finally Marko joined him in London, they found a nice place and moved in together but could not afford to live the bustling metropolitan lifestyle. "We would walk home from work together and have a party of our own. Ever since that time every little victory tastes sweeter."
Kristel was working for different crowd-sourced testing platforms and became a gold level tester pretty fast. For a girl who was used to get by with so little, money was pouring in but so did an unnerving kind of restlessness.
"I began to realize how inefficiently testing was done on those platforms. How testers competed with each other and there was no actual process to deliver world-class results. Building a killer app is team work and I didn't see that competing and being detached from the dev team would help anyone get there. That was when Marko and I started discussing that this is something we could build."
They signed up for a London hackathon called AngelHack. The 2012 event provided 64 ideas and they were among the first three. "We did not get elected for the free tickets to San Francisco because we had been hiding the fact that we were a couple as we thought that would not be seen as a good thing. But when we opened up about it to AngelHack founder Greg Gopman, they saw the potential in us as a team, and sent us to SF anyway."
They flew to SF, where they won the finals with 27 other finalists from all over the world, with a seed investment of 25 000 dollars and a first paying customer. As the story goes, the rest is history.
To live the dream
"When we were celebrating in the end of the event at a home of one of the founders of Zynga, we thought: "This would be a cool way to live."
From that day on, things looked up for them. Having decided to be "all in", they got engaged, quit their jobs and took a small loan to buy tickets to Austin, Texas, for TechStars.
This was where they met Meelik Gornoi, their current Head of Development, who soon after became the first employee at Testlio. It only took them days to realize they created good synergy together: Kristel and Marko had the powerful energy and Meelik had the experience of building teams and testing strategies for Skype.
"What I love about startups is the fast chain of feedback," tells Meelik. "If you write a blog post or release a new feature, it reaches a great number of users and makes their life easier, and they thank you from the bottoms of their hearts. This also helps you to learn immensely and develop with and within the company."
Meelik had gone through a bunch of different roles over those few years starting from writing code and managing client projects to being a technical project manager, scrum master and a hiring officer. "We have managed to combine work with joy – a great part of our culture is going out with the whole team every Thursday to exchange ideas in a more relaxed environment. The team has grown but the vibe has remained the same and I hope this lasts forever."
They have had their office in Tallinn since March this year. Until then, they had always been extremely frugal. "I never like to spend money if you can rather keep it," Kristel says. "But now that our cash flow is positive, we raised the round and do not have to check our bank balance every day, we can relax a bit. The main thing is to keep the testers happy."
As the fall creeps in in Estonia, Kristel and Marko set their eyes on California again. Soon they will have to start raising money for the next round. "And who knows, we might even have a party when we finally open our office in the US."
Photo courtesy of Kaire Lusti